Q & A
Map around Kintaikyo Bridge
Iwakuni Station Tourist Information
Located on the 1st floor of JR Iwakuni station, staffed with English speaking receptionist.
Pamphlets available in different languages (English, French, Chinese, Thai and Korean).
Free Wi-Fi (Hiroshima Free Wi-fi), too.
Visit the following web site for details.
https://tic.jnto.go.jp/eng/detail.php?id=4208
【Iwakuni Station Tourist Information】
Address 1-1-1 Marifu-machi, Iwakuni-City, Yamaguchi
Holidays Jan.1-Jan.3
Hours of operation AM9:00-PM5:00
【Access】
1、Turn right after the exit gate of JR Iwakuni station.
2、Go straight and take stairs down to the main entrance.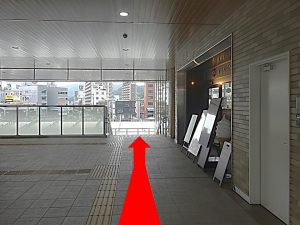 3、It's on your right.
Are there coin lockers or a luggage storage desk available?
Coin Lockers:
Coin-operated luggage lockers are available at Kintaikyo Bus Center, Iwakuni Castle Ropeway (Base Station and Summit Station), JR Iwakuni Station, Shin-Iwakuni Station, and Iwakuni Kintaikyo Airport.
Luggage Storage Desk:
Kintaikyo Bus Center Tourism Information Desk, 500 yen, Available Hours: 9:35~17:00
Bus Center Hashi-no-eki Market (Tenbo-Ichiba), 300 yen/500 yen, Available Hours: 9:00~17:00 (Sept.~Mar.), 9:00~18:00 (Apr.~Aug.)
*Luggage storage is available during business hours only.
*Luggage storage fee at Hashi-no-Eki Tenbo Ichiba Market differs according to the size of the luggage.
Where is bicycle rental available?
"Honke Matsugane", the Iwakuni tourism exchange facility located near Kintaikyo Bridge, offers bicycle rental.
Rental hours: 10:00~17:00
*Bicycle rental is closed during bad weather.
Fees:
3-hour rental: 800 yen
1-day rental: 2,000 yen
Reservations can be made up to one month in advance. Please note that the number of bicycles available for rental is three. Bicycle rental fees are half-price for guests of the following three hotels in the Jokamachi area: Hangetuan, Shiratame Ryokan, and Iwakuni Kokusai Kanko Hotel.
For details, please inquire to the Iwakuni tourism exchange facility "Honke Matsugane".
Reservations & Inquiries
Iwakuni Tourism Exchange Facility "Honke Matsugane"
Website: http://honke-matsugane.jp/en/
Can I request an English-speaking tour guide?
Can wheelchair users cross Kintaikyo Bridge?
While the 1st and 5th arch of the bridge are relatively flat and can be crossed by wheelchair, the 2nd, 3rd and 4th arches include steps, and are therefore unsuitable for wheelchair access.
Can wheelchair users ride the ropeway?
A chair lift has been installed at the boarding area, so wheelchair users can ride the ropeway. Please note that the carrying of wheelchairs or providing assistance during transfer is the responsibility of the customer.
Can wheelchair users enter Iwakuni Castle?
Iwakuni Castle is unsuitable for wheelchair access, as there are multiple stairs and no elevator inside the castle.
Is wheelchair rental available?
Wheelchair rental is available at the following locations: Iwakuni Castle Ropeway Base Station (2 units: 1 regular, 1 electric-assist), Iwakuni Castle Ropeway Summit Station (3 units, all electric-assist), and Iwakuni City Tourism Association (1 unit). Rental is provided on a first-come-first-serve basis at all locations.