Iwakuni's Kintaikyo Bridge and Miyajima's Itsukushima Shrine are closer than you might think.
This model itinerary allows you to visit both in a relaxed overnight, two-day trip.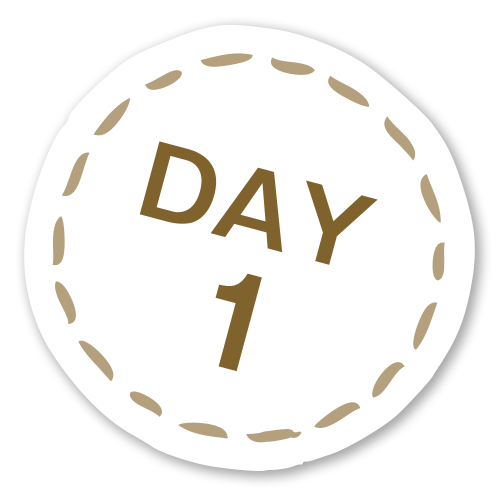 Walking Around Kintaikyo Bridge in Iwakuni
You can take a walking tour of the historical buildings in the area that surrounds the popular sightseeing spot Kintaikyo Bridge.
Packed with natural scenery and delicious food, the first day of your trip will leisurely and therapeutic.
Kintaikyo Bridge
Kintaikyo Bridge is Iwakuni's leading sightseeing spot.
You will be welcomed by a vista of lush green mountains and the bridge's five arches spanning across the Nishiki River.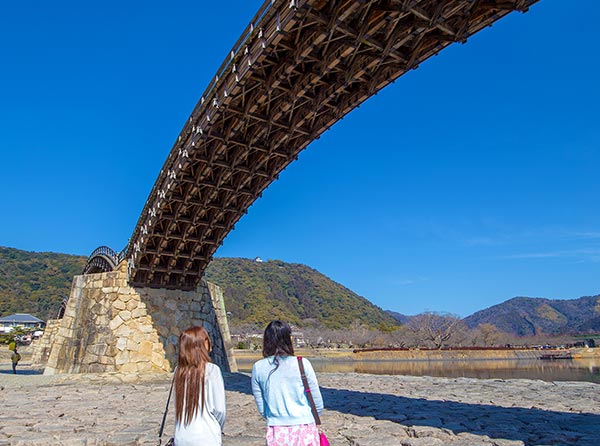 The underside of Kintaikyo Bridge, as viewed from the riverbed.
Its craftsmanship, known as kigumi no giho (wooden framework technique), is a masterpiece.
Kikko Park
A large park surrounded by greenery and seasonal flowers all year round.
Popular with local residents, it is used as a place of relaxation.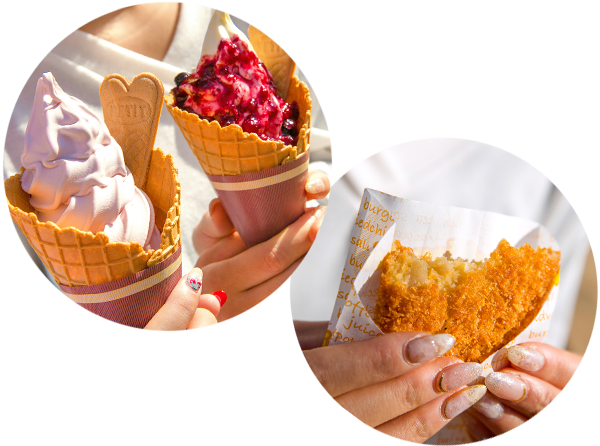 Croquettes made with Iwakuni lotus root, a local specialty product, that can be eaten in the area on the far side of Kintaikyo Bridge. Here, you can also enjoy choosing your favorite flavor from more than 100 varieties of soft ice cream.
Ropeway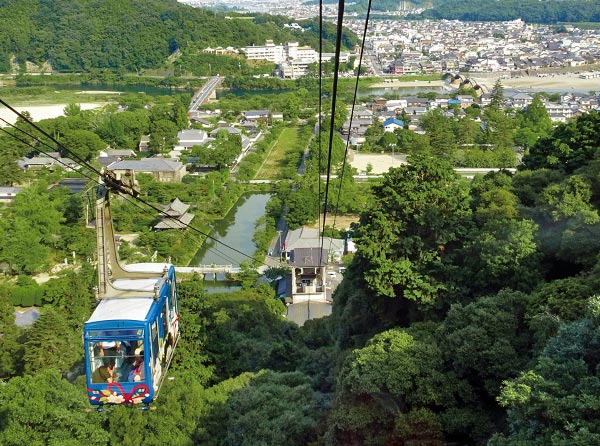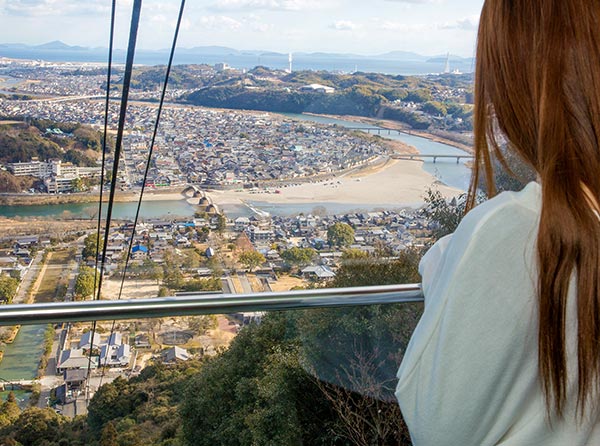 A three-minute ride to reach the summit. The Nishiki River, Kintaikyo Bridge and the castle town will unfurl before your eyes like a miniature model.
On fine days, you can gaze out as far as the islands of the Seto Inland Sea and Shikoku.
10 minutes on foot from Summit Station
Iwakuni Castle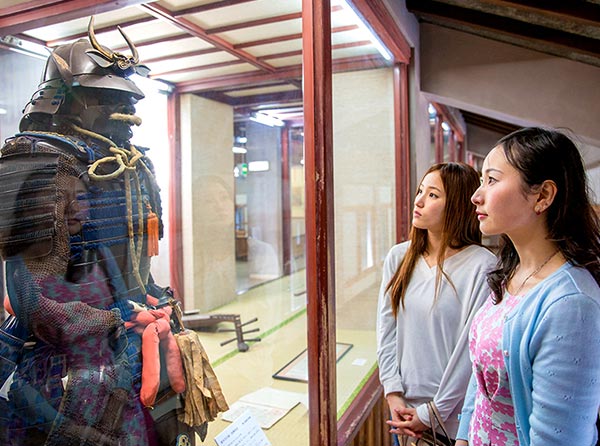 This hilltop castle was constructed in 1608 by Kikkawa Hiroie, the first-generation lord of Iwakuni Domain.
However, just seven years later, it was demolished due to the shogun's degree of "one castle in each domain".
The current keep is a reconstruction, based on diagrams from the original period of construction.
Inside the keep, items including weaponry, armor and katana swords are on display. There is an outstanding view from the top of the keep.
lunch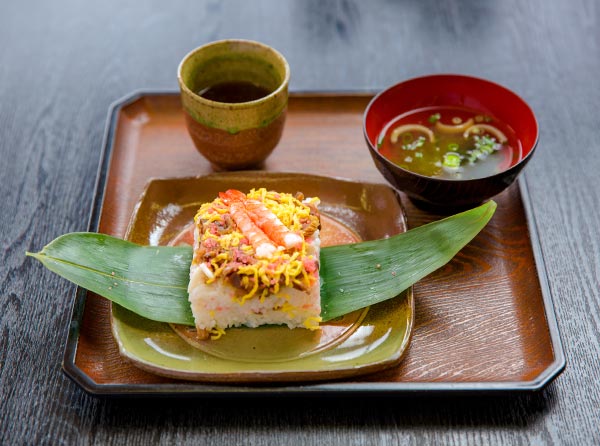 Iwakuni Specialty Product: Iwakuni SushiA local dish that has been eaten in Iwakuni City for many generations, Iwakuni Sushi is chirashi-zushi as a preserved food, in the style of pressed sushi.
There are many shops in the area around Kintaikyo Bridge where you can eat Iwakuni Sushi.
Flavors are subtly different from shop to shop, so sampling several different kinds of Iwakuni Sushi is a recommended activity.
Shirayama Hime-jinja Shrine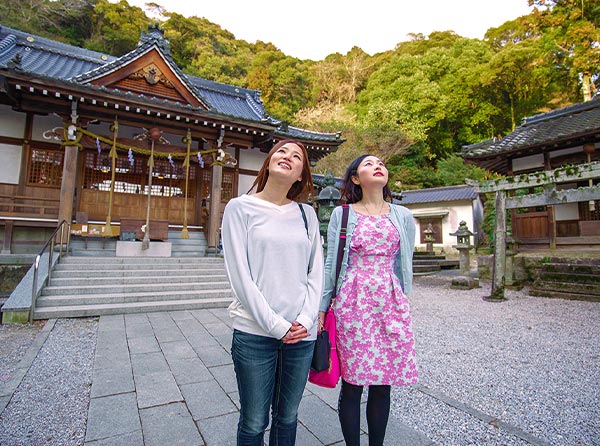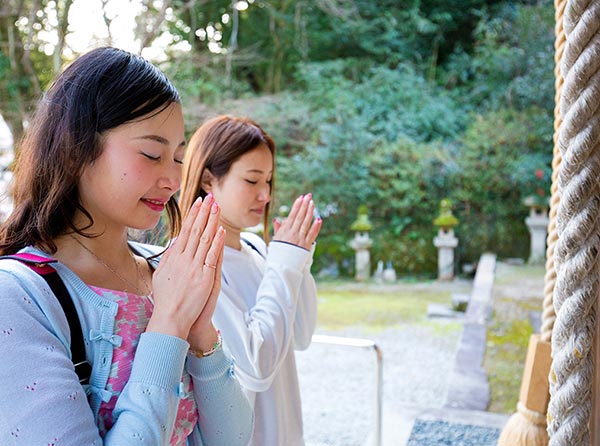 It is said that the sacred spirit of Shirayama-jinja Shrine in Kaga Province (now Ishikawa Prefecture) was divided and re-enshrined here in 876.
Surrounded by mountains and clean air, the precincts of the shrine exude a solemn ambience. The deity here is also said to be a god of marriage, so why not try asking for its blessing?
A Small Detour
Kikko Shrine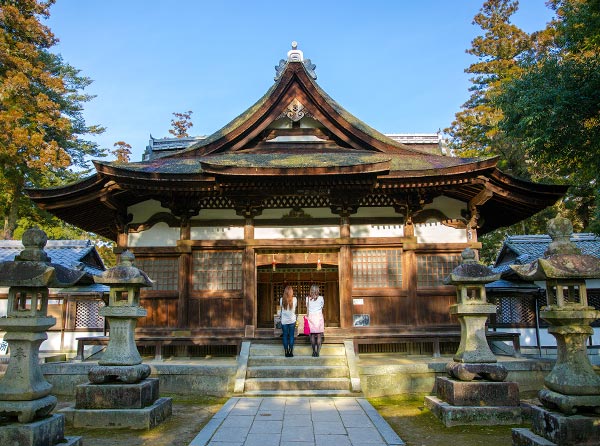 Located three minutes' walk from Shirayama Hime-jinja Shrine, this shrine is dedicated to the ancestral spirits of the Kikkawa Clan, who ruled Iwakuni in the Edo period.
It has been designated a national Important Cultural Property.
The surroundings are filled with cherry blossoms and azaleas in spring, hydrangeas in summer, and fall colors and ginkgo trees in autumn.
Iwakuni White Snake Museum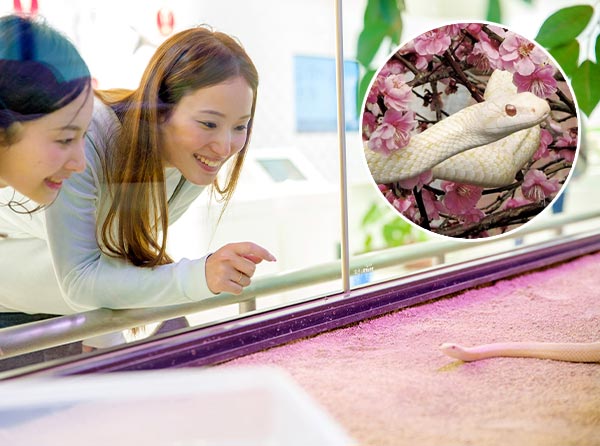 This beautiful variety of snake has a pure white body and red, ruby-like eyes.
Iwakuni has been its habitat since ancient times, and it was highly respected as a "servant of the gods".
It is also said to bring good financial fortune.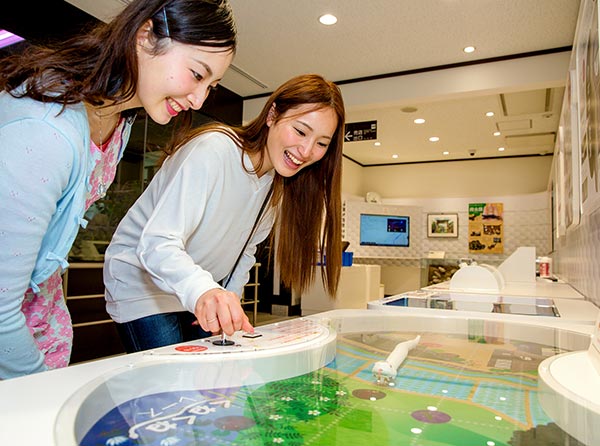 You can learn about the Iwakuni white snake's history and biology through games and hands-on exhibits.
There is also a souvenir corner, offering a line-up of cute Iwakuni white snake merchandise.
Kikko Cormorant Training Facility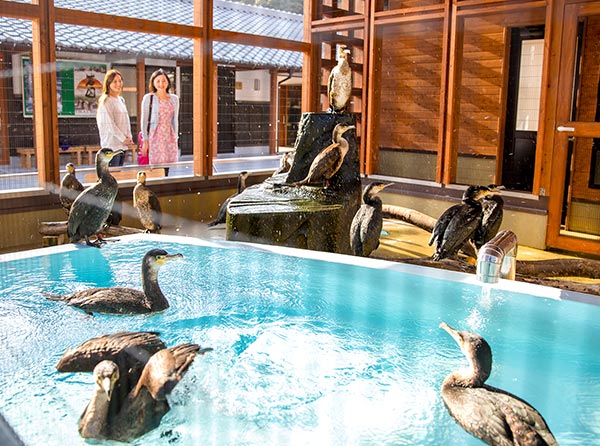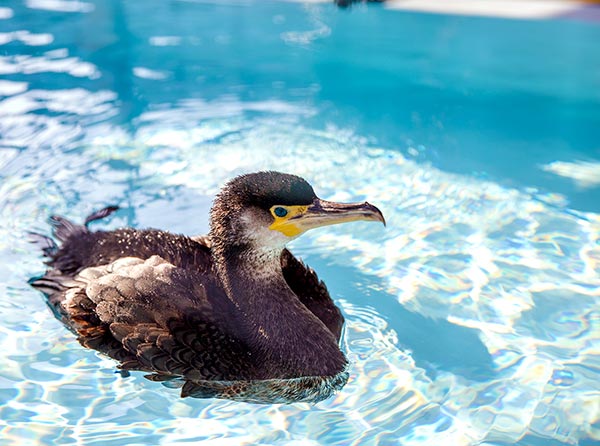 This facility is where the cormorants used in "Cormorant Fishing of Kintaikyo Bridge", the classic summer tradition of Iwakuni, are raised.
In addition to the Training Space, where you can watch the cormorants train through wire netting, there is also an Exhibition Space, where you can learn about the history and technique of cormorant fishing through exhibits.
Iwakuni City Visitors Center "Honke Matsugane"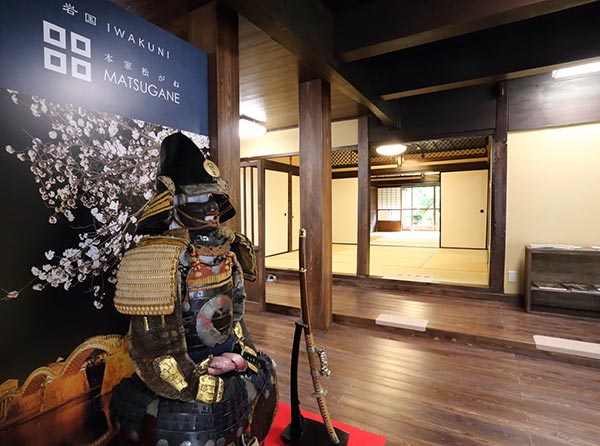 This building is a renovated merchant's house that is representative of Iwakuni, built in around 1850.
You can find information here about Iwakuni's history, tourist attractions, and local specialty products.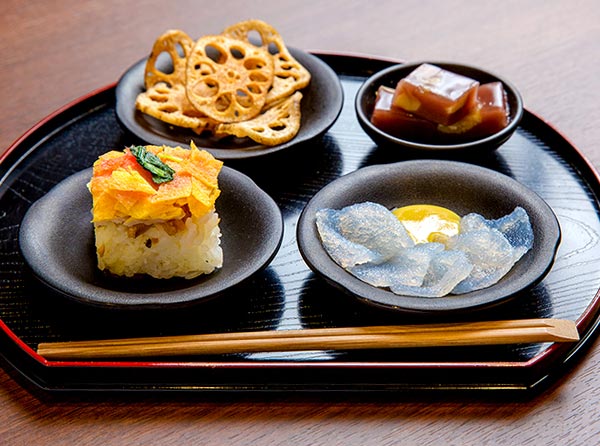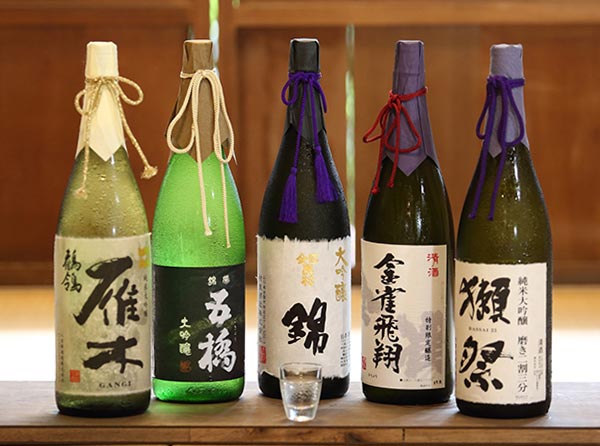 You can taste samples of Iwakuni's specialty products and local sake. (Fee required)
Walking in the Seven Neighborhoods of Iwakuni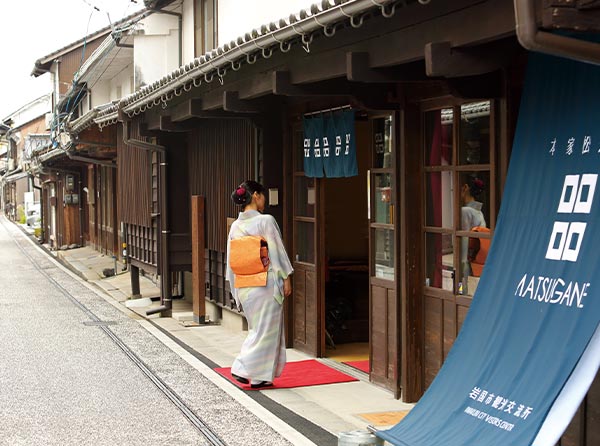 In the area around Honke Matsugane, the old-fashioned townscape of Iwakuni that flourished as a castle town in the Edo period has been preserved.
Please take a walk around the town, and let yourself imagine the bustling scenes of historic times.
Uno Chiyo Birthplace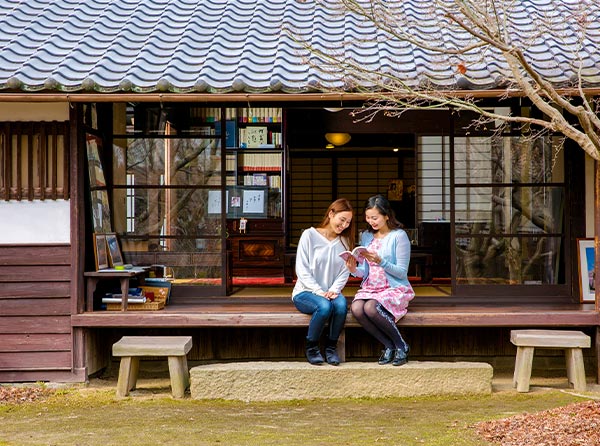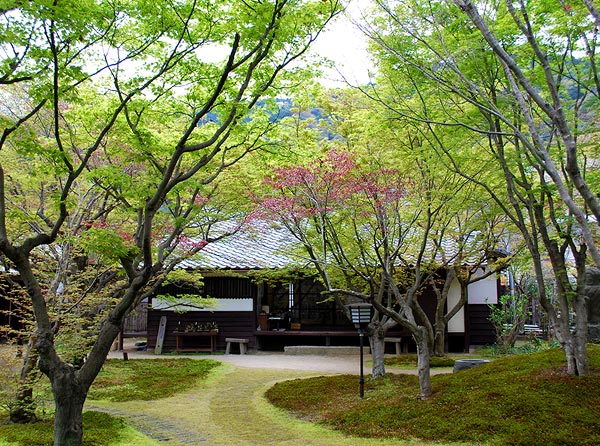 The birthplace of the female novelist Uno Chiyo.
From the engawa (veranda), you can look out onto the beautiful, well-tended traditional Japanese garden.
Bus Center Hashi-no-eki Market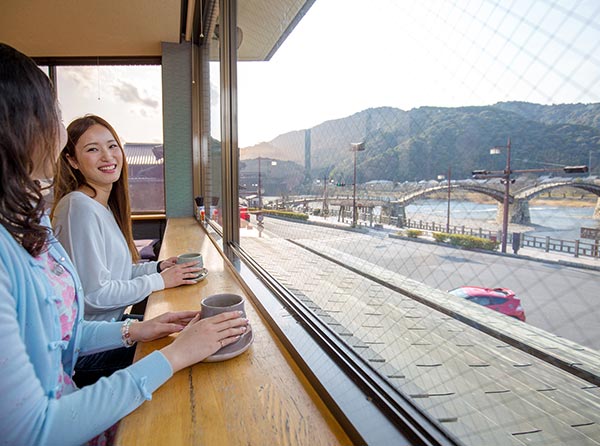 You can enjoy coffee and other drinks while gazing out onto the view of Kintaikyo Bridge, as well as meals including the famous Iwakuni Sushi.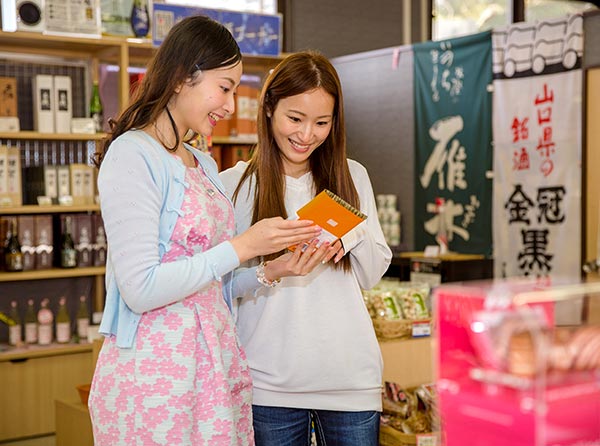 There is a wide selection of souvenirs, including Iwakuni's specialty products and local sake.
Kintaikyo Hot Spring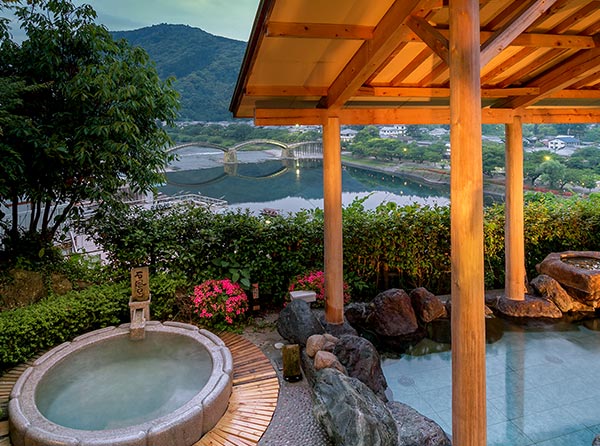 A natural hot spring within Iwakuni Kokusai Kanko Hotel, a hotel located three minutes' walk from Kintaikyo Bridge. Bathers in the two open-air baths can look out onto Kintaikyo Bridge and Iwakuni Castle.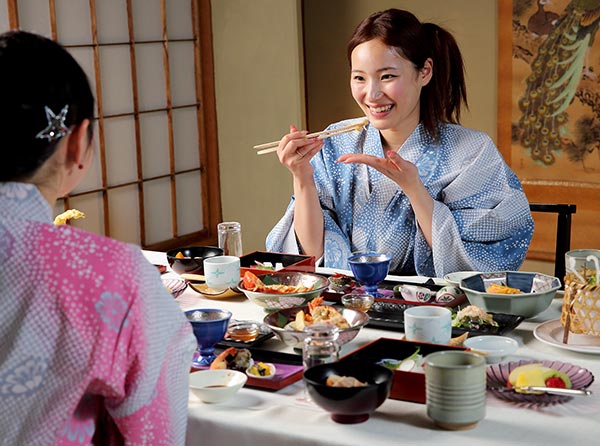 After soothing away your fatigue in the hot spring, please enjoy dining on traditional local Iwakuni cuisine.
Kintaikyo Bridge Illumination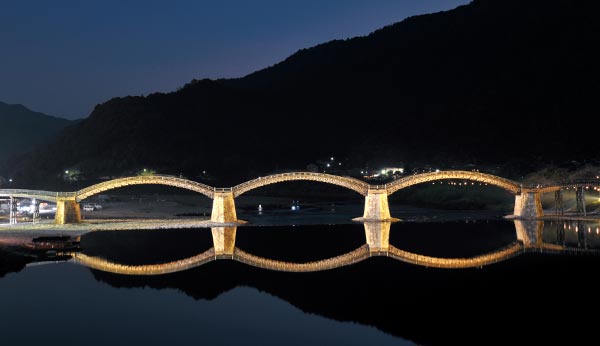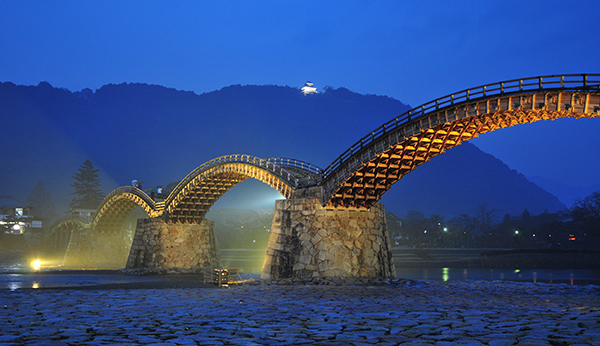 Kintaikyo Bridge is lit up by illuminations at night, allowing you to enjoy a dreamlike scene that is quite different to daytime views of the bridge.
●Illumination Period: Early August~Mid-January, Late March~Late May
●Illumination Times: Sunset~22:00